OTRR Comments -
Elizabeth McLeod is one of old time radio's most premier researchers. Her work is widely known and respected. Her articles have appeared in many of the major publications and her books enjoy a wide circulation.
The Old Time Radio Researchers are extremely proud to be able to host her works on radio on its' website. We urge all our friends to support the fine work she does. Her resume is as follows -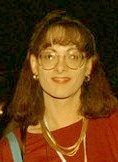 Elizabeth McLeod has collected and researched pre-1935 radio programming for more than twenty years. Her interest in OTR dates back to her teenage years, when she discovered rebroadcasts of historic shows on WMEX, Boston. Since then she's accumulated a collection of about five thousand programs, many of them unusual and rare. Her specific interests include, in addition to the very early material, the work of Fred Allen, band remotes, Vic & Sade, news material from all eras, and baseball broadcasts. Professionally, Elizabeth has more than fifteen years experience in radio journalism, and is currently staff writer for The Cybercasters, an Internet-based company specializing in on-line publicity material for the computer industry (www.cybercasters.com), and is also a contributing writer for the CBS Radio Network program "Sound*Bytes." You can contact Elizabeth with question, comments, or trade proposals by e-mail at lizmcl@midcoast.com. Elizabeth is a resident of Rockland, Maine.

OBJECTIVE:
Primary - An opportunity to put my award-winning writing, editing, research, and communications skills to work for you Secondary An opportunity to put to use my extensive knowledge of, and passion for cultural history.
SKILLS:
The ability to think and write clearly, quickly, and cleanly under deadline pressure. Proficiency in Microsoft Office suite and SoundEdit 16 Pro; experience with FileMaker Pro and Adobe Photoshop.
RECOGNITION:
Internationally recognized as a researcher and analyst of American radio broadcasting history. Cited as an authority by the BBC, ABC, MSNBC, PBS, the Los Angeles Times, the New York Daily News, and National Geographic Online
EMPLOYMENT HISTORY:
2006-present
House Manager Strand Theatre, Rockland, ME
Historic entertainment venue presenting a full program of motion pictures and live events.
•Supervised overall floor operations for theatre presentations, and served as technical assistant and relief projectionist as needed.
• Provided historic consultation and promotional copywriting services. Served as master of ceremonies for historically-oriented film presentations, placing films in overall context.
1997-2007
Writer (independent contractor) - Successes.com, Scottsdale AZ
A web content firm creating online customer success stories for contract clients.
•Over 300 Customer Success Stories written for high-profile clients, including FileMaker Inc., American Express, Nextel, and America Online. Stories emphasize how people make creative and innovative use of clients' products.
•More than 800 scripts for Sound Bytes, heard daily over 500 CBS Radio Network affiliates. Scripts review a wide range of websites and software products in a concise 60-second format.
1997-present
Journalist/Consultant, Broadcasting History (Independent)
•Authored the critically acclaimed book, "The Original Amos 'n' Andy - Freeman Gosden, Charles Correll, and the 1928-43 Radio Serial" McFarland & Co, 2005.
•Primary historical consultant and interview subject for "The Real Amos 'n' Andy", two-part radio documentary aired on BBC Radio 4.
•Featured guest on PBS program, History Detectives
•Prepared liner notes for First Generation Radio Archives releases of a wide range of vintage radio programs. Transferred and preserved original radio broadcast recordings.
1989-1997
News Director - Megunticook Gramophone and Radio, Camden ME - 50KW FM radio station, full-service format.
•Supervised three-member news department.
• Wrote and edited local and regional news stories on tight deadlines.
•Organized and conducted interviews with newsmakers from the local, regional, and national sectors.
1986-1989
Reporter - Passamaquoddy Broadcasting Corporation, Rockland ME - 1000 watt AM/50KW FM radio station combination, full-service formats.
•Covered municipal government, local education and law enforcement beats.
•Filed regular reports for broadcast on morning news program.
1983-1986
Production Director - Marine Broadcasting Corporation, Belfast ME
•Wrote and produced broadcast advertisements in accord with client requests.
•Produced and hosted daily afternoon music program.
AWARDS:
Ray Stanich Award for excellence in Broadcasting History Research, 2005, Friends of Old Time Radio
Best Radio Writing, 1996, Maine Association of Broadcasters
Best Radio Feature, 1995, Maine Association of Broadcasters
Best Radio Commercial, 1993, Maine Association of Broadcasters
Best Continuing Coverage, Radio, 1990, Maine Association of Broadcasters

SELECTED PUBLICATIONS:
The Original Amos 'n Andy - Freeman Gosden, Charles Correll, and the 1928-43 Radio Serial -- McFarland & Co, 2005 - A biography of radio's first major stars, exploring their long-term impact on the medium, and analyzing and documenting the reasons for their success.
Articles in The Encyclopedia of Radio, C. H. Sterling, editor, Routledge Research Amalgamated Broadcasting System (2004)
Amos 'n Andy (2004)
Jehovahs Witnesses (2004)
The Controversial Comedy of Amos 'n' Andy - An essay in Exploring Cultural History: Living Through The Great Depression,Tracy Brown Collins, editor, Greenhaven Press, 2004
Tis Funny, McGee - Nostalgia Digest, December 2000/January 2001
We Want Cantor - Nostalgia Digest, October/November 2000
Forever Snooks - Nostalgia Digest, August/September 2000
Tonight The Program's Gonna Be Different - Life and Times of Ed Wynn -Nostalgia Digest,June/July 2000
His Time Was Our Time -- The Rudy Vallee Story - Nostalgia Digest, April/May 2000
Radio Moments of the 20th Century - Journal of the Radio Historical Association of Colorado, January through December, 2000
Charlie's Big Night - Nostalgia Digest, February/March 1999
Forgotten Laughter: An Appreciation of Fred Allen - Nostalgia Digest, December/January 1998/9
Documenting Early Radio - Radio Recall: Journal of the MWOTRC, December 1997 (Part One), February 1998 (Part Two), April 1998 (Part Three)